happy boy #2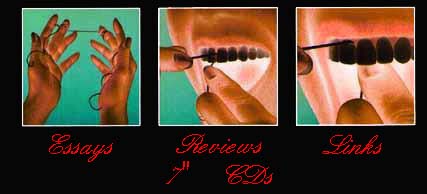 So it's finally here. Issue #2!! I supposed I've finally reached the status of an independent publisher now since it took me way too long to put this issue together. So many things to do so little time. Well here it is many months later and this issue is ready to be layed out and printed. There are a few changes in this issue that only a few people will notice. There are some different writers and I'm very happy to have them. It helps me achieve my goal of being a forum for people's thoughts. There are a lot more reviews this time around. I guess I just bought more stuff but in any event it's a lot to read. I still maintain that this will evolve into what people inform me that they want to see. So please get in touch!
Now here's my excuse for being lazy and not getting this done on time. I became very disinterested in the whole zine concept after the first issue was out. I can't remember how many were printed maybe around 30. In any event I put them out at shows and they all quickly disappeared. So my hopes were high. Then I heard absolutely zero feedback. Since I was trying to make an outlet for other people as well, I had all but given up. I worked a little on the next issue but basically it went on the back burner of my life. Then came a time when I was surfing the net and came upon a friend of mine's page, Life as a Lie zine. He had written a very favorable review of my zine and I got inspired to work again. I worked a bit but the inspiration quickly wore off. I read a bunch of zines and they got me interested but I just couldn't focus for long enough periods of time. Then came the final blow. My sister, Michael, Rebecca, and I went to New Bedford Fest. I met some of the most amazing people and had the best time. We were sleeping on any free space of floor we could find with 21 of the coolest people I've ever met. We left on a Thursday afternoon and got to DC at 3am. Rebecca knows this truly amazing guy named Forbes who lives there. He met us outside at 3am and let us stay in his dorm room. The next morning he cooked us some kick-ass oatmeal and we got to meet another of Rebecca's friends, Nisha. Both of these people were so hospitable and friendly. Nisha is so active it's incredible. We left early afternoon for Massachusetts and arrived in New Bedford around 11pm. There we met the girl that was hooking us up with a place to stay. Kelly, you rule. After a few minutes I felt like we had been friends for a while. Then we were introduced to Meghan, the girl we were staying with. We shortly learn that there are 21 people staying at Meghan's. For the first time I'm beginning to wonder how this is gonna work out. I was sooooo wrong! This ruled. We met all these awesome kids from DE, NJ, and Mass. The next day there was the greatest trip to IHOP. "Party of 21 please." After breakfast we were all like long lost friends. I don't remember much from the concert. The people made such an impact. They restored my faith in people and indirectly inspired me to start writing and putting this thing together. To give back.
Thank you for being such a great inspiration: Forbes, Nisha, Mike, Kevin, Joe, John, Chris Crust, Julian, Geoff, Evan, Robin, Meghan, Kelly, Becca, Josh from Jersey, Little Ricky, Chris (Neil Perry), Dan, Larry, Michael, Rebecca, and Leslie.
Please sign the guestbook and give feedback.

All material within is free of charge. We just ask that you give credit where credit is due. If it was written by someone other than me, Chris Ware, then please get in touch so I can ask the writer. All pictures taken by Leslie Ware. (

shynsobryt@yahoo.com) Please ask her if you wish to use them. For more info check out the info page. Now stop reading the fine print and go on to the semi-interesting stuff.